18th IEEE Workshop on Dependable Parallel, Distributed and Network-Centric
Systems
Boston, MA, USA

Held in conjunction with the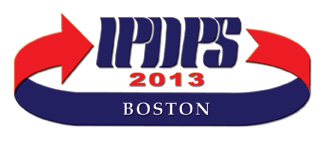 27th IEEE International Parallel & Distributed Processing Symposium
May 20-24, 2013
---
Preliminary Program (PDF file)

8:45am - 9:00am Opening Remarks
9:00am - 10:00am Keynote Speech
"CASCADE: Communities for Ad Hoc Networks" Dr. Tim Strayer (BBN, Cambridge, MA, USA)
10:00am - 10:30am Coffee Break
10:30am - 12:00am Network Algorithms and Techniques
10:30am "A Fault-Tolerant Strong Unstable Conjunctive Predicate Detection Algorithm for Large-Scale Networks", Min Shen and Ajay Kshemkalyani (University of Illinois at Chicago, USA).
11:00am "Tolerating Packet Losses in Wireless Mesh Networks", Frank Engelhardt, Timo Lindhorst and Edgar Nett (OvG University Magdeburg, Germany).
11:30am "Reducing the Migration Times of Multiple VMs on WANs using a Feedback Controller", Tae Seung Kang, Mauricio Tsugawa, José Fortes (University of Florida, USA) and Takahiro Hirofuchi (National Institute of Advanced Industrial Science and Technology, Japan).
12:30am - 01:30pm Lunch Break
1:30pm - 3:00pm Cloud Computing
1:30pm "Evaluating Distributed Resilient Adaptable Cloud Platform for Emerging Applications", Antonio Celesti, Nicola Peditto, Fabio Verboso, Massimo Villari and Antonio Puliafito (University of Messina, Italy).
2:00pm "Sustained Resilience via Live Process Cloning", Arash Rezaei and Frank Mueller (North Carolina State University, USA).
2:30pm "A Model for the Evaluation of User-Perceived Service Properties", Andreas Dittrich, Igor Kaitovic, Cristina Murillo and Rafael Rezende (Università della Svizzera Italiana, Switzerland).
3:00pm - 3:30pm Coffee Break
3:30pm - 5:00pm High Performance/Availability Computing
3:30pm "Symmetric Comparison-Based Fault Diagnosis of Multiprocessor and Distributed Systems Using Nonlinear Support Vector Machines", Mourad Elhadef (University of Ottawa, Canada).
4:00pm "A Comprehensive Analysis of XOR-based Erasure Codes Tolerating 3 or More Concurrent Failures", Pradeep Subedi and Xubin He (Virginia Commonwealth University, USA).
4:30pm "Monitoring and Controlling System for Microservers", Andreas Doering (IBM Research Laboratory, Switzerland) and Tibor Kiss (Gamax Kft, Hungary).
5:00pm - 6:00pm Fault Tolerance
5:00pm "Investigating Standby from a System Reliability Perspective", Salvatore Distefano (Politecnico di Milano, Italy).
5:30pm "Towards Fault-Tolerant and Energy-Efficient Swarms of Underwater Robots", Ammar Amory, Benjamin Meyer, Christoph Osterloh, Thomas Tosik and Erik Maehle (University of Luebeck, Germany).
6:00pm - 6:10pm Concluding Remarks